Teresa Jones |
District 2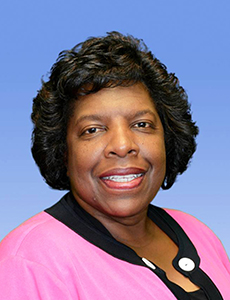 Ms. Teresa Jones was born in Holly Springs, Ms. She attended Byhalia High School, Lane College and Memphis State University Law School. She has lived in midtown Memphis since 1981. She currently serves as Chief City Prosecutor for the City Of Memphis Law Division and has served in this capacity since May 2003. Prior to this position, Ms. Jones served as senior trial attorney and supervisor in the Shelby County Public Defender Office for fifteen years. She has been licensed in Tennessee since 1987. She is also a former adjunct professor at the University of Memphis Cecil C. Humphreys Law School and LeMoyne Owen College.
Ms. Jones is an active member of the Ben F. Jones Chapter of the National Bar Association, the National Bar Association, the Memphis Bar Association and former member of the Tennessee Bar Association and American Bar Association. She served fifteen years as a Commissioner for the Tennessee Lawyers Assistance Program. She is also very active in the community as a member of the NAACP Executive Committee, Delta Sigma Theta Sorority, Inc. as well as Lane College Memphis Alumni Chapter and Lane College Board of Trustees.
On October 1, 2011, Ms. Jones began her appointment with the merged Shelby County Board of Education as the District 2 Representative for Shelby County. On August 2, 2012 she was elected to a four-year term and on August 4, 2016 was re-elected in an uncontested race. In September 2014, she was elected Chair of the Shelby County Board of Education by her peers and served two terms.
Ms. Jones is a member of the Midtown Church of Christ. She is single and does not have any children. She enjoys league bowling and is a life member of the United States Tennis Association and the American Tennis Association.