About Us
Our Program
The Adopt-A-School Partnership Program is a Shelby County Schools District initiative that brings businesses, civic and faith-based organizations, individuals or any other community-based group together with a school to form a partnership. During the partnership, adopters and school personnel commit themselves to specific goals, activities, resources (human/financial) all of which are intended to make a sustainable impact on student success. Also, Adopt-ASchool Partnerships are high quality, innovative relationships which enrich the learning experience and help close the gaps of students, while enhancing the future of the city and our communities. Shelby County Schools (SCS) is fortunate to have strong support from volunteers and community partners. SCS sponsors one of the most established Adopt-A-School programs in the country. Through the support of its Adopt-ASchool (AAS) partners, SCS students have been connected to the community in many ways: exciting guest speakers for career day; generous donations of equipment for the science lab; dedicated tutors who spend time one-on-one focusing on reading and math skills; and dedicated mentors who reach out to struggling teens who need an extra adult who really cares.
Our History
The Adopt-A-School program was started by legacy Memphis City Schools and the Volunteer Center of Memphis in 1979. It was designed to create a family consisting of a business, civic group and/ or religious organization and a school. The purpose of the program was to foster a better understanding in the community of our public school district and to establish a person to person relationship between the adopter and adoptee that would create a spirit of involvement and concern for our schools. The ultimate goal of the program was to encourage greater communitywide interest in our city schools in order to ensure the economic and public educational future of our city and to make our school district a model for which every Memphian could be proud. The program began with 15 partnerships. Today, nearly 40 years later, the program is called Adopt-A-School Partnership (AAS Partnership). Partnership was added to the name in 2000-2001 because the focus of the program moved from a paternalistic relationship to a partnership in the holistic education of our children. Our schools now have more than 500 business/community partners. The goal of the program remains basically the same and that is to promote partnerships between schools and the community that create a sense of ownership of the schools and a belief that a quality public school district is an investment in the continued growth and prosperity of the city.
Adoption Levels of Participation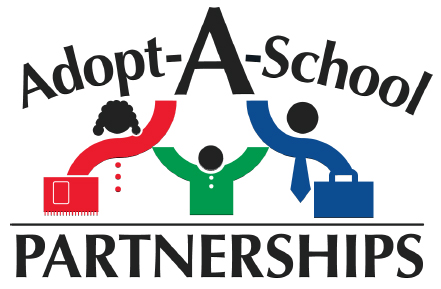 Campus Adopter: An organization/individual that works with one school within the District.
District Adopter: An organization/individual works with multiple schools or the entire Shelby County School District.
Benefits
Provides a lasting bond between schools and the community
Promotes and supports student success
Businesses and organizations enjoy "giving" back to the community through their local schools
The school community positively gains from the additional resources and experiences offered by adopters
Promotes cooperation and encourage the exchange of expertise, resources, and services
Increases employee performance, retention and productivity
Creates opportunities to receive positive recognition within the community
Enhances your community image
Provides a better understanding of public education and the role learning plays in developing and preparing a workforce
Offers opportunities for employee volunteerism
Encourages greater community-wide interest in our schools and helps to ensure the economic and public educational future of our city
Offers opportunities for employee volunteerism Enhances communication with educational systems and increases understanding
Contributes to a healthy community
Adoption Categories/Opportunities for Service
Student Development
Activities that directly support parents and families.
Tutor
Read to classes and/or students
Mentor
Teach character education
Coach athletic teams
Sponsor student clubs
Proctor tests
Internships
Speak on Career Day
Other activities as needed by the school
Teacher Support
Activities that help encourage and recognize teachers for their effort and success.
Remodel/rejuvenate the Teachers' Lounge
Sponsor teacher appreciation events
Recognize excellent teachers
Assist in the classroom
Assist in the library
Sponsor a weekly or monthly health or fitness activity at the school (yoga class, cooking demo)
Other activities as needed by the school
Parent & Family Support
Activities that directly support parents and families.
Translate or interpret for parents and family members
Conduct parenting classes
Conduct adult education classes (job training, GED readiness)
Conduct English as a Second Language Classes
Sponsor parent motivational events
Other activities as needed by the school
Resource Enhancement
Donation of money, goods, or non-monetary support of the schools' students, families and programs; can include volunteer support such as clerical assistance.
Provide financial contributions
Provide school uniforms
Provide office supplies and equipment
Provide school supplies and books for students
Provide donations for families in crisis (Thanksgiving baskets, fire victims)
Assist the school with fundraising projects
Provide gifts for students at the holidays
Provide transportation (field trips, sporting events)
Assist in the office
Other activities as needed by the school
Positive School Climate
A school's climate refers to the "quality and character of its life." This includes safety, relationships, morale, motivation, and the physical environment of the school building.
Monitor hallways and outside space
Beautify and renovate school property
Chaperone field trips
Serve on a School Leadership Council
Provide professional development for school staff
Sponsor student motivational events (pep rallies, TNReady rally)
Sponsor parties for classrooms
Provide incentives and rewards for students
Other activities as needed by the school
Best Practices for a Meaningful Adopter and School Partnership
Prior to beginning a partnership, the adopter and the school develop written roles, commitments, expectations, and a common definition of a successful relationship.
Adopters engage in a range of activities at the school, including student development, teacher support, positive school climate, parent and family support and resource enhancement.
Schools and the District communicate regularly with adopters through various means such as newsletters, phone calls, emails, and meetings with the Superintendent.
The District and schools provide appropriate training to adopters for specialized tasks or new initiatives, such as mentoring and tutoring.
The adopter and the school has one person designated to serve as the coordinator for the AAS Partnership.
The adopter and the school reflect upon the relationship at least once per year to consider past performance and outline goals for the next year, including feedback on how the relationship has benefited the students and school.
The principal and the adopting organization's CEO (or his/her designee) meet periodically to build a relationship and renew high-level commitment to the partnership.
All of a school's adopters meet together with the school's site coordinator periodically to build relationships, find opportunities for collaboration, and share successes and obstacles.
[1] Addendum to Quality Standards for School-Based Volunteer Programs