Upcoming Events
January

Cervical Health Awareness Month

School Board Appreciation Month

Law Enforcement Appreciation Day (Jan 9th)

February

Heart Health Month

MSCS Go Red Kick-Off Event Wednesday, February 2nd 3:00-5:30 pm

Step Challenge Contest

Biometric Screening for central office Wednesday, February 23rd 10 am -1 pm

National School Counseling Week (Feb 7th-11th)

School Bus Drivers' Appreciation Day (Feb 22nd)

March

Nutrition Month

Colorectal Cancer Awareness Month

Maintenance Workers Appreciation Day (Mar 4th)

National School Social Workers' Week (Mar 6th-11th)

Fitness Challenge

April

Sleep & Stress Awareness Month

Fitness in the Park (April 4th)

School Librarian Appreciation Day (Apr 4th)

National Assistant Principals Week (Apr 4th-8th)

Paraprofessionals Appreciation Day (Apr 6th)

National Volunteer Recognition Week (Apr 18th-22nd)

National Administrative Professionals' Day (Apr 27th)

May

Mental Health Awareness

National Women's Health Week

Women's Health Fair May 13th

School Principals' Day (May 1st)

Teachers' Appreciation Week (May 2nd-6th)

National Teachers' Day (May 3rd)

School Nurse Day (May 11th)

June

Men's Health Month

Men's Health Event

End of School Year Celebration- Memphis Redbirds Employee Appreciation

July

All-Star Principals' Power Play w/Dr. Ray

August

Immunization Awareness Month

Breastfeeding Awareness Month

Loungin' On the Lawn Back-to-School Celebration at Levitt Shell

September

Suicide Prevention Month

Yoga Awareness Month

Prostate Cancer Month

Fitness in the Park

901 Day (Sept 1st)

National Substitute Teachers' Appreciation Week (Sept 6th-10th)

National IT Professionals' Day (Sept 21st)

October

Breast Cancer Awareness

Pink Friday health fair

Think Pink

Mammography Unit

Survivor Recognition

Domestic Violence Awareness Month

Pregnancy & Infant Loss Awareness Month

National Principals' Month

School Custodians' Appreciation Day (Oct 2nd)

Coaches Appreciation Day (Oct 6th)

National Boss' Day (Oct 17th)

November

Diabetes Awareness Month

Great American Smoke Out

Lung Cancer Awareness Month

Veterans' Day Virtual Hero Wall (Nov 11th)

SCS Veterans' Recognition Ceremony

Substitute Teachers' Day (Nov 18th)

December

Teacher Mingle-Jingle Jam Holiday Celebration (TBA)

Central Office Holiday Celebration (TBA)
---
MSCS Superheroes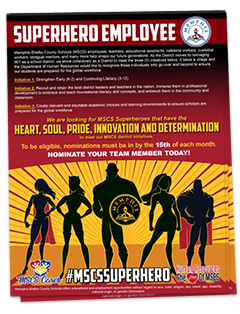 Our Memphis-Shelby County Schools (MSCS) employees, teachers, educational assistants, cafeteria workers, custodial workers, bilingual mentors, and many more help shape our future generations. We are looking for MSCS superheroes that have the heart, soul, pride, innovation, and determination to meet the following District initiatives:
Strengthen Early (K-2) and Continuing Literacy (3-12)
Recruit and retain the best district leaders and teachers in the nation, immerse them in professional development to embrace and teach foundational literacy skill concepts, and entrench them in the community and classroom
Create relevant and equitable academic choices and learning environments to ensure scholars are prepared for the global workforce
If you know an MSCS Superhero in the district, nominate them! Click to here complete the nomination form. Be sure to include as many details as possible. Nominations must be in by the 15th of each month to be eligible.
2021-2022 Superheroes
December
Genard Phillips – Chief of Business Operations
MSCS Chief of Business Operations Genard Phillips is the consummate professional. While abounding in technical proficiency and customer service excellence, it's Chief Phillips' heart for the work that sets him apart as an MSCS Superhero. Mr. Phillips left a corporate job to dedicate his time, talents, and treasures to serving students and families in Shelby County. He is a magnificent role model for his team and the community of what a servant's heart looks like in action.
Patrick Walker – Music Teacher, Raleigh Egypt Middle School
Patrick Walker is the music teacher at Raleigh-Egypt Middle School. His positive attitude and energetic personality are contagious. He takes pride in his work every day. He does a terrific job with his piano classes. Students can make tremendous progress in short amounts of time with his excellent classroom culture. He even spearheads several committees. In addition, he makes sure that students have fashionable Raleigh-Egypt Middle gear to wear to represent our school. Mr. Walker has made it his mission to be the chief recruiter for our staff. This year alone, he recruited three incredible teachers and an energetic computer lab specialist for our school. He expresses how much he believes in our students, school staff, and community every day and proudly proclaims it wherever he goes. Mr. Walker exemplifies innovation, heart, pride, soul, and determination at Raleigh-Egypt Middle School!
January
Jacqueline Sistrunk – Custodian, Shady Grove Elementary
While performing day-to-day tasks, Jacqueline Sistrunk developed a trusting relationship with the children, faculty, and staff, going above and beyond. On one particular day, Jacqueline saved a student's life in the process of harming themselves. This was definitely considered as having HEART.
Anika Richmond – PLC Coach, Middle College High School
Anika Richmond is a dedicated teacher and jumps into many different roles in our school community. She currently serves as our school's PLC Coach at MCHS, a STEM coordinator, and a Technology Student Association Chapter Advisor. Her commitment to achieving is outstanding. She commits to spending hours of her time pushing everyone to greatness. She provides powerful professional developments to our school. Her innovative teaching skills allow our students to make unique artistic creations, especially those CAD skills that are now useful in the global workforce. As an advisor, she leads the students as a great role model, pushing them to compete and demonstrate their knowledge in the different events they participate in. Her dedication is above and beyond the commitments we have signed up for. She deserves to be named as an MSCS Superhero.
February
March
April
May
June
July