SUPERINTENDENT
Over the past four years, Shelby County Schools has seen great gains after challenges following the merger and demerger. Here's a snapshot of our progress since 2013:
For three years in a row, SCS was named a TVAAS Level 5 district, which is the highest growth level a district can obtain.
Over a two-year period (2014-2015 & 2015-2016), SCS successfully obtained $40 million additional general funds and $100 million in capital improvement funds from the Shelby County Commission.
The iZone Schools expanded from seven to 21 schools to assist more low-performing schools from falling into and/or pulling them out of the bottom five percent.
In 2016-2017, SCS launched the "Greater Schools. Greater Communities." campaign to better engage the community in making resource and investment-focused decisions for individual schools.
---
View full report: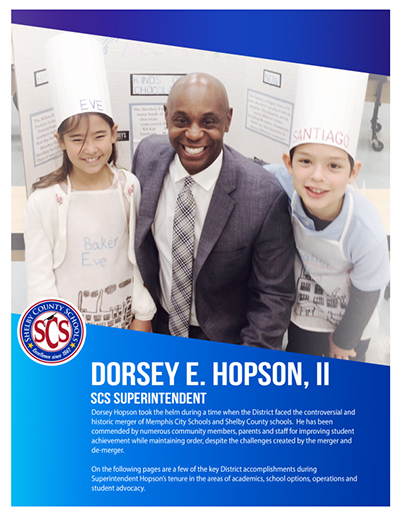 "Learn more about Supt. Hopson's commitment to improving student achievement.
---
As we look ahead, we know there's more work to be done to keep the momentum of our progress. That can't happen without community feedback. Please let us know which areas you feel are on the right track and which areas you'd like to see us show greater improvement in.
Dorsey E. Hopson, II serves as the Superintendent of the Shelby County Schools, one of the 25 largest school districts in the nation.  Hopson received his Bachelors of Arts (with honors) from the University of Memphis. He then attended Georgia State University College of Law where he served as an associate editor of the GSU Law Review. Hopson graduated Magna Cum Laude from Georgia State University in 1998 and ranked 12th in his graduating class.
Hopson began his legal career at a prominent Atlanta based law firm. He represented corporate and government clients across the country in employment matters. Hopson left the firm to serve as Associate General Counsel for the Atlanta Public Schools. There, Hopson represented the Atlanta Public Schools in employment matters and served as the District's Ethics Officer.  Hopson later served as General Counsel for the Clayton County School System. During his time as counsel for Atlanta Public Schools and Clayton County Schools Hopson learned key strategies related to teacher effectiveness. He also gained valuable insight about the political and operational aspects of urban school districts.
In April 2008, the Board of Education for the Memphis City Schools named Hopson as its General Counsel. As General Counsel, Hopson tried cases, managed a team of attorneys and provided legal and strategic advice to the District's leadership team. Under his leadership, Memphis City Schools was awarded a $57.4 million dollar judgment against the City of Memphis in a landmark case involving educational funding.  In 2010, the Memphis City Schools surrendered its Charter and triggered the largest school merger in history. Hopson worked with state and local officials and provided strategic advice and counsel to the Shelby County School Board of Education throughout the merger process.
In 2013 the Shelby County Board of Education named Hopson the first Superintendent of the newly merged Shelby County Schools. Hopson has a deep passion for education and the law. He strongly believes that every child can learn and that education is the great equalizer. He also believes that the key to student achievement is to ensure that every classroom has an effective teacher and every school has an effective leader. Hopson is a member of various civic and community organizations and relishes the opportunity to lead and serve his community.