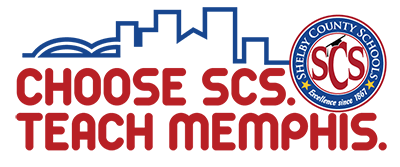 Shelby County Schools is one of the largest employers in Memphis with more than 14,000 employees sharing one common goal – increasing student achievement across the District.

From schools to the central office, we strive for a mission-driven working environment that empowers all staff to take ownership of their own work, along with providing professional development opportunities to ensure you have the knowledge and skills to continue your growth and be successful in your role.
Instructional Positions

Lead our students as a teacher, counselor or librarian! Before applying for a position at one of our schools, please create a profile. You will receive an email within 48 business hours outlining your next steps.

School-Based Support Positions

Contribute to a school-based team as an education assistant, clerical staff member, nutrition tech, bilingual mentor, instructional facilitator, professional learning coach, assistant principal or principal.

Central Office Positions

Support multiple schools through Central Office positions including Accounting, Information Technology, Psychology, Nursing, or Human Resources.