About Us
Optional Schools: Pursue the Possibilities
Why are Optional Schools the best option for students who are committed to academic achievement?
Here are just a few reasons: A longstanding tradition of excellence. Opportunities for students to participate
in innovative programs, such as Aviation, STEAM, Dual Language Immersion, International Studies,
Health Sciences, Creative and Performing Arts. No tuition for residents of Shelby County. All of these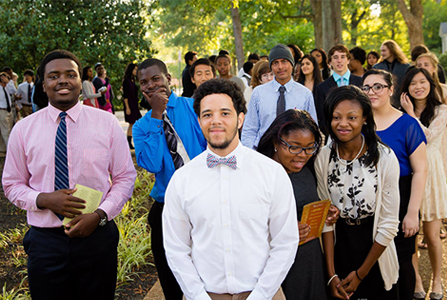 qualities, plus more, contribute to a unique program that allows students to achieve academically while
pursuing their specialized interests and needs. Flying a plane, performing in an orchestra, conserving the environment… Students enrolled in Shelby County Schools' Optional Schools can learn to do all these things and more! With over 47 theme-based schools, there is sure to be an Optional Program that fits your child's unique needs and interests. Optional Programs are offered at every grade level from Kindergarten through twelfth grade. Elementary students may choose to explore programs such as enriched academics, creative and performing arts, environmental science, chess, technology, and more. Two Optional elementary schools are International Baccalaureate Schools, offering a rigorous curriculum that encourages students to be critical thinkers in a global society. Optional Programs at the middle-school and high-school levels are designed to prepare students for success in college and careers. Our challenging programs at these levels include college preparatory coursework, aviation/travel and tourism, creative and performing arts, pre-engineering, and more. Our newest programs provide students with even more opportunities to reach higher levels of academic achievement. New optional schools for the 2014-2015 school year include Bolton High School, Germantown Elementary, Middle and High Schools, and a new STEAM middle school. With the addition of these new programs, students can pursue International Studies, enriched academics, creative and performing arts, and more. Additionally, students who attend Germantown High School can enroll in the rigorous International Baccalaureate Diploma Programme and/or learn to be journalists in the award-winning GHS-TV station. Bolton also offers the IB Diploma Programme, as well as advanced training in the rapidly growing Automotive Technology and Information Technology fields. Our new STEAM school will integrate STEM and Art into all subjects, which will help develop well-rounded and creative students. A complete listing of schools is available in the next pages.
Optional Schools have a longstanding tradition of excellence. Our students consistently score well on tests, win local and national honors and attend some of the nation's best colleges. Additionally, our schools are home to some of the best teachers in the state and nation. Optional schools truly provide our students with endless opportunities and options to be successful in college, career and beyond.