Hall of

Fame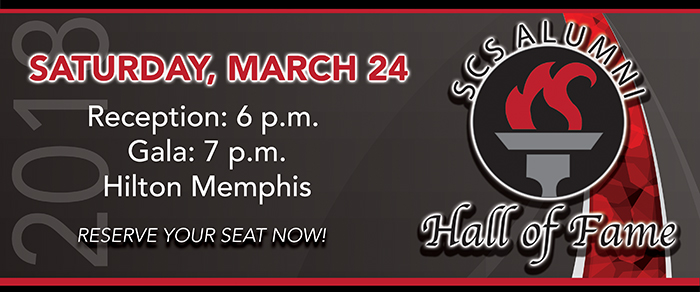 Tickets and sponsorship packages for the 2018 Alumni Hall of Fame Gala are now available. Join us on Saturday, March 24, 2018 at the Hilton Memphis as we honor the newest group of outstanding SCS alum.
Each year, the SCS Alumni Hall of Fame honors notable graduates of Shelby County Schools for their professional accomplishments and work in the community. Past honorees include Maxine Smith, Kathy Bates, Penny Hardaway, and Johnnie Turner.
This year's Gala will include a cocktail reception, silent auction featuring original artwork from SCS students, and live entertainment by a surprise special guest.
Click here to purchase tickets and view sponsorship opportunities.

---
2018

Alumni Hall of Fame Inductees
Toney Armstrong
Toney Armstrong is a graduate of Memphis Technical High School. Armstrong currently serves as director of security for St. Jude Children's Research Hospital in Memphis, Tenn. Armstrong oversees all security-related activities for the institution's 66-acre campus and its three housing facilities for patients and their families. Prior to his appointment at St. Jude, Armstrong served as Director of Police Services for the Memphis Police Department, where he served in various roles for 27 years before retirement.
Brandice Daniel
Brandice Daniel is a graduate of East High School. Daniel is the founder of Harlem's Fashion Row, a platform for multicultural fashion designers to showcase their collection for the world's top fashion buyers, editors, celebrities and influencers. Since the 2007 HFR launch, Daniel has grown the organization to include e-commerce and a weekly podcast aimed at inspiring young minority designers to build profitable and sustainable businesses that will continue for many generations.
Jim Kyle
Jim Kyle Jr. is a graduate of Oakhaven High School. Kyle currently serves as a Chancellor in the Shelby County Chancery Court. Prior to his 2014 election and appointment in the Shelby County Chancery Court, Kyle served as Tennessee Senator (D) for the 30th District from 1983-2014. During his time in the Tennessee Senate, he served as Democratic Caucus Chairman, and Chairman of the Select Oversight Committee on Corrections. Kyle holds membership on the Senate Finance, Calendar, Judiciary, Rules, Delayed Bills Committees.
Johnny Moore
Johnny Moore is a graduate of Melrose High School. Moore currently serves as President and CEO of SunTrust Bank, Memphis. Prior to being named president and CEO in 2009, Moore served as Executive Vice President and head of the SunTrust's Memphis Region Commercial line of business where he oversaw depository, cash management, investment, and lending needs of companies with sales volumes between $5,000,000 and $250,000,000. Mr. Moore is an active community servant, currently serves on boards including Memphis & Shelby County Port Commission, Greater Memphis Chamber of Commerce, Memphis Tomorrow, and National Civil Rights Museum.
Bernal Smith
(1972-2017)
The late Bernal E. Smith II is a graduate of Whitehaven High School. Smith was president and publisher of The New Tri-State Defender, a minority founded newspaper created to serve African American populations in the Memphis Tri-State community. In addition to serving as publisher of Memphis' most popular minority publication, Smith served the local community in many capacities including his involvement in local mentoring program 100 Black Men of Memphis and being a founding board member of the Memphis Academy of Health Sciences (MAHS), Tennessee's first public charter school.
---
---