Upcoming Events
July

Perfect Attendance Recognition

Years of Service Recognition

August

Loungin' on the Lawn Back-to-School Celebration at Overton Park Shell (Aug 12th)

Immunization Awareness Month

Breastfeeding Awareness Month

September

Suicide Prevention Month

Yoga Awareness Month

Prostate Cancer Month

Fitness in the Park

901 Day (Sept 1st)

National IT Professionals' Day (Sept 21st)

October

Breast Cancer Awareness

Pink Friday health fair (Oct 7th)
Think Pink Contest
Mammography Unit (0ct 7th, Oct 19th, Oct 21st; locations TBD)
Survivor Recognition

Fall Fitness Challenge

Domestic Violence Awareness Month

Pregnancy & Infant Loss Awareness Month

National Principals' Month

School Custodians' Appreciation Day (Oct 2nd)

Coaches Appreciation Day (Oct 6th)

National Boss' Day (Oct 16th)

November

Native American Heritage Month

Diabetes Awareness Month

Great American Smoke Out

Lung Cancer Awareness Month

Veterans' Day Virtual Hero Wall (Nov 11th)

SCS Veterans' Recognition Ceremony (TBD)

Substitute Teachers' Day (Nov 18th)

December

Teacher Mingle-Jingle Jam Holiday Celebration (TBA)

Central Office Holiday Celebration (TBA)

January

Cervical Health Awareness Month

School Board Appreciation Month

Law Enforcement Appreciation Day (Jan 9th)

February

Heart Health Month

MSCS Go Red Kick-Off Event (TBD)

Go Red, Get Moving! Step Challenge

Black History Month

National School Counseling Week (Feb 6th-10th)

School Bus Drivers' Appreciation Day (Feb 22nd)

March

Nutrition Month

Colorectal Cancer Awareness Month

Maintenance Workers Appreciation Day (Mar 4th)

National School Social Workers' Week (Mar 5th-11th)

International Women's Day (Mar 8th)

Fitness Challenge

Sleep Awareness Month

April

Stress Awareness Month

Black Maternal Health Week (Apr 11th-17th)

Fitness in the Park (TBD)

School Librarian Appreciation Day (Apr 4th)

National Assistant Principals Week (Apr 4th-8th)

National Administrative Professionals' Day (Apr 27th)

May

Mental Health Awareness Month

National Women's Health Week

Women's Health Summit (TBD)

School Principals' Day (May 1st)

Teachers' Appreciation Week (May 2nd-6th)

National Teachers' Day (May 3rd)

Excellence in Education Gala (TBD)

School Nurse Day (May 11th)

June

Men's Health Month

Men's Health Event (TBD)

End of School Year Celebration- Memphis Redbirds Employee Appreciation (TBD)
---
MSCS Superheroes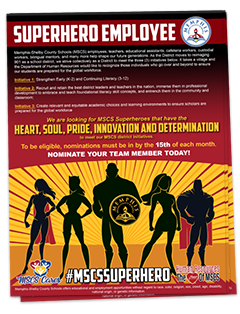 Our Memphis-Shelby County Schools (MSCS) employees, teachers, educational assistants, cafeteria workers, custodial workers, bilingual mentors, and many more help shape our future generations. We are looking for MSCS superheroes that have the heart, soul, pride, innovation, and determination to meet the following District initiatives:
Strengthen Early (K-2) and Continuing Literacy (3-12)
Recruit and retain the best district leaders and teachers in the nation, immerse them in professional development to embrace and teach foundational literacy skill concepts, and entrench them in the community and classroom
Create relevant and equitable academic choices and learning environments to ensure scholars are prepared for the global workforce
If you know an MSCS Superhero in the district, nominate them! Click to here complete the nomination form. Be sure to include as many details as possible. Nominations must be in by the 15th of each month to be eligible.
2022-2023 Superheroes
September
October
November
December
January
February
March
April
May