90-Day Executive Report
A Message from Dr. Joris M. Ray, Superintendent
Each and every day, my work is driven by my commitment to ensure all children have equitable opportunities to learn, achieve and follow their dreams.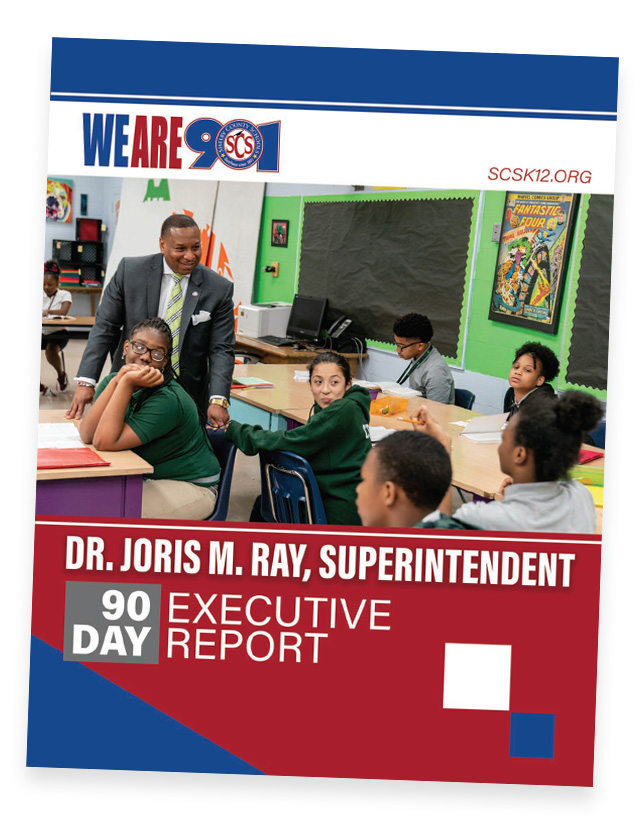 I am pleased to report that our 90-Day Entry Plan produced the outcomes that it was designed to achieve. Through directly engaging internal and external stakeholders, visiting schools and attending numerous community events, I was able to identify key future steps to guide the work of our District as well.
The aim of these future key steps is to help us achieve the goals of our Destination 2025 Strategic Plan. I commit to continuing the strong collaboration with the Shelby County Board of Education to define success as they establish further measurable goals, and staff will develop and implement the plan that will achieve the identified goals.
As I shared in my presentation during the May 2019 School Board Meeting, ensuring the success of Destination 2025 will require a laser-like focus on the following:
Implement the Academic Equity in Action Plan
Build internal capacity to support Social Emotional Learning (SEL)
Create a cohesive District-wide culture that focuses on students and families
Embed the Servant Leadership methodology across the organization
Effectively and efficiently align our resources
Create a comprehensive Reimagining 901 plan (Footprint Proposal)
Realize the District office transition
Improve support systems for African-American male students
This is our time to make a difference, as we are currently standing together at a crossroads. We can either choose to continue with the status-quo or move in a direction that allows us to not only succeed, but also excel. I am asking you to join me on a path that allows us to make great strides by building on our current successes and forging new paths through innovative thinking and actions.
Thank you!